Okay, so yesterday was my blog's first birthday! I can hardly believe that I managed to stick with it for so long. But before we go on with that, I'd like to also inform you that yesterday a pretty dope thing was launched.
John Sennett (whose interview you can see here), launched a new twitter chat "Speak Up Together", that will be hosted on @bloggers_unity under the hashtag #blogsunite. First chat focused on 'working together and blog collaborations', stay tuned on John's twitter for further topics!
Now onto my post. As a blogger, I learned a lot of stuff. Most of them I never planned to even start learning, so it's a great thing that I got into blogging. However leaving the technical stuff behind, I'll share more personal aspects of my journey. So here are things I learned as a blogger.
1) I have no squad
You know how people say that you need a squad, as in having friends and people that support you. Well, I don't have that, not with blogging not in life. Okay not to be rude, there are some amazing souls on twitter who are sweet to the core and occasionally remember that I exist and talk to me. As for my life…. I have a friend who doesn't seem to want to hang out with me at all… so yeah… go me!
2) My people skills are nonexistent
I somehow manage to make a good first impression and after that throw it out of the window. I'm unable to connect to people beyond that "first impression". It's like I puff out of existence. Basically, I'm a person that's easy to forget unless I put a crazy amount of work into maintaining the relationship. And I mostly can't be bothered to always re-connect first, so all my attempts get busted shortly.
3) Professionalism, what is that??
I'm a goof with a personality of a mad scientist. I cannot be serious, no matter the topic. I always find a way to turn and twist everything and make a funny or a sarcastic remark.
4) Sticking to one thing is impossible
I knew this one before, but it only became more obvious to me. I can't stick to one thing. Even now that I'm writing this post, I'm also talking to my classmate on the phone and working on my assignment. If I try to focus on one thing, my mind will go into an overdrive and I'll start thinking something random and eventually get nothing done…
5) I still have no idea what I'm doing
Yes after one year of blogging when people act like they are total blogging pros, I can only say that I still have no idea what I'm doing. Not only that I don't have a niche or people to connect with on blogging matters, I also don't know how to get people to connect with my posts or how to get readers, so I'm just floating in this incredible ocean of "What the hell is going on?".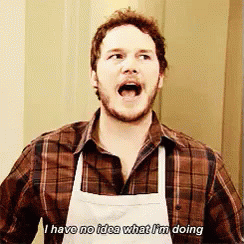 Yeah, I'll stop my ranting here and let you go do your own thing. Do comment your tips and advice if you have any.
Also, be my friend? Maybe??